Hello,
This is Ozaki from the ApparelX News editing department.
We're excited to announce that we've added TIGER's renowned paracord products to ApparelX!
Paracord is a versatile material used in various applications, from outdoor and survival gear to fashion items.
In this edition, we'll delve into the world of paracord, exploring its uses and introducing TIGER's exceptional products!
About Paracord
Paracord, originally designed for suspending parachutes, is formally known as parachute cord.
Developed for military use, it is exceptionally sturdy. Typically, with a thickness of 4mm, it can withstand approximately 250kg of weight.
Moreover, besides its direct use, it has seven inner strands that can be extracted, offering a distinctive feature. These inner threads can be repurposed as fishing lines or sewing threads.
Given these features, paracord finds a wide range of applications, from outdoor activities like camping and climbing to disaster situations and everyday life
The Applications of Paracord
The paracord has a variety of applications, including but not limited to:
Supplementary rope during tent setup
Clothesline during camping
Pet leash
Fishing line, sewing thread (when inner strands are extracted)
Bracelets and keychains
Belts, shoelaces, and other apparel uses
In addition to these, there are numerous other applications, and individuals may come up with new uses, showcasing the product's vast potential.
As a fashion item:
While I mentioned apparel uses as one of the applications, it has become increasingly popular among apparel manufacturers. It is frequently seen in outdoor bags as handles or decorations, used as decorative elements on mountain parkas, and is prevalent in outdoor products.
On the other hand, it's not limited to outdoor wear; combining it with a cord lock as shoelaces for sneakers can create a unique atmosphere. Moreover, it can be used with cargo pants and military-style items, aligning with the trend in recent seasons.
In the past few years, practicality has become a crucial element in outdoor-style apparel, and I believe the use of paracord in apparel applications will continue to grow!
Introduction of TIGER Products:

Introduction of TIGER Products:
Now, let me introduce TIGER's products, which have recently become available on ApparelX.
---
Here is a standard product from TIGER's paracord.
It has a thickness of 4mm and a load-bearing capacity of 250 kgf.
It possesses weather resistance and UV resistance, making it suitable for outdoor use and wet conditions without fading or color transfer.
The color selection is extensive, and among the paracords available on ApparelX, it offers the most color options
---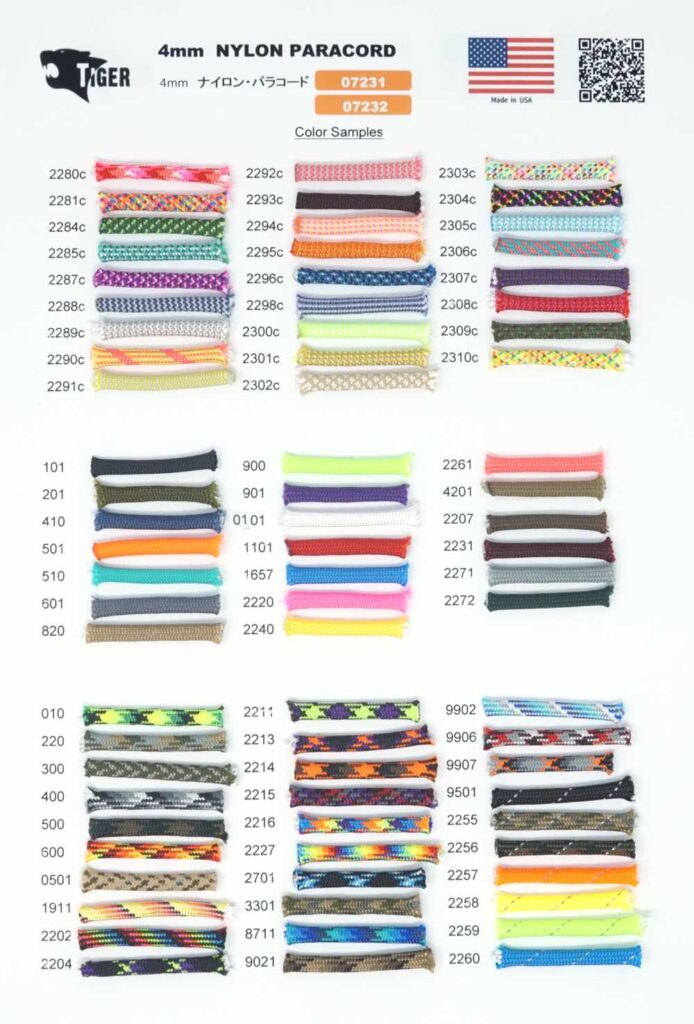 Here is the reflective version of 07231.
*This version is available only in the range of c/#9501 to c/#2260 at the bottom right of the sample book.
It is ideal for leisure activities conducted in dark places due to the inclusion of reflective material.
---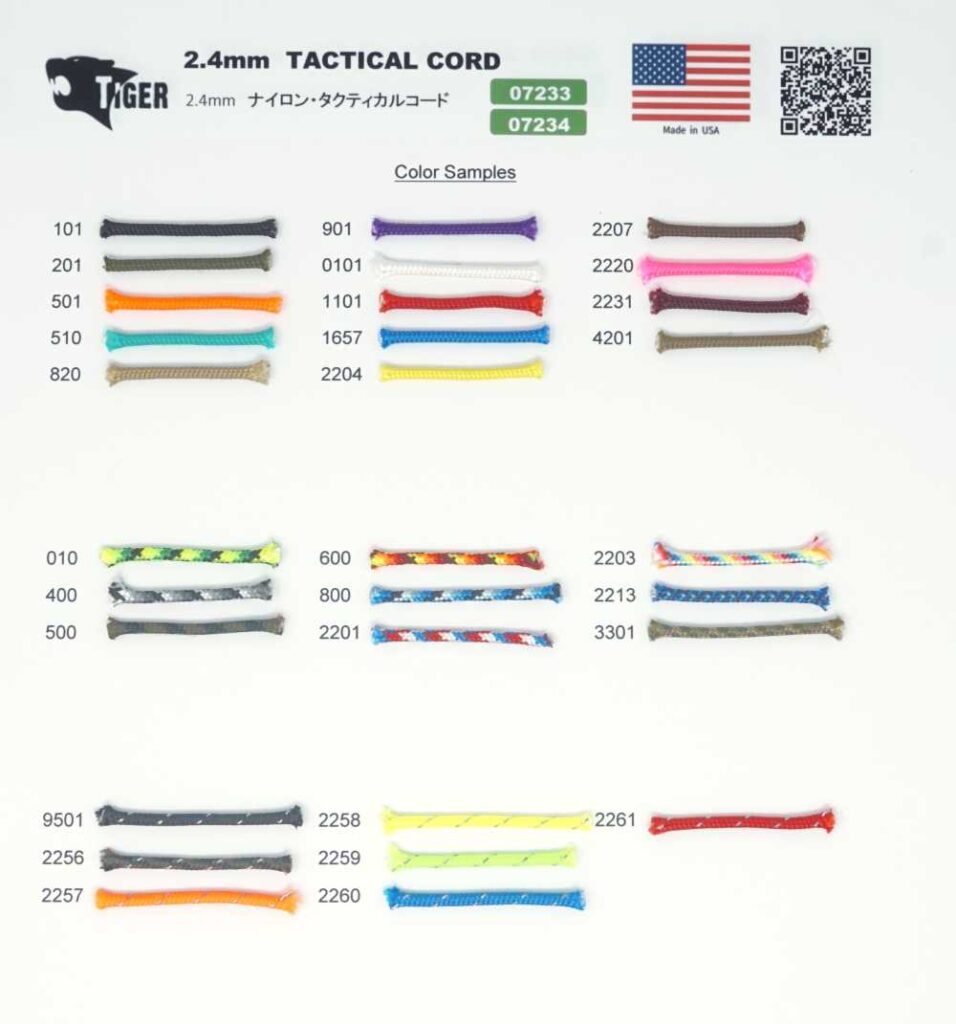 This is a 2.4mm tactical cord.
While not as thick as paracord, it still provides considerable strength.
It is easy to use for apparel purposes such as shoelaces and drawcords.
---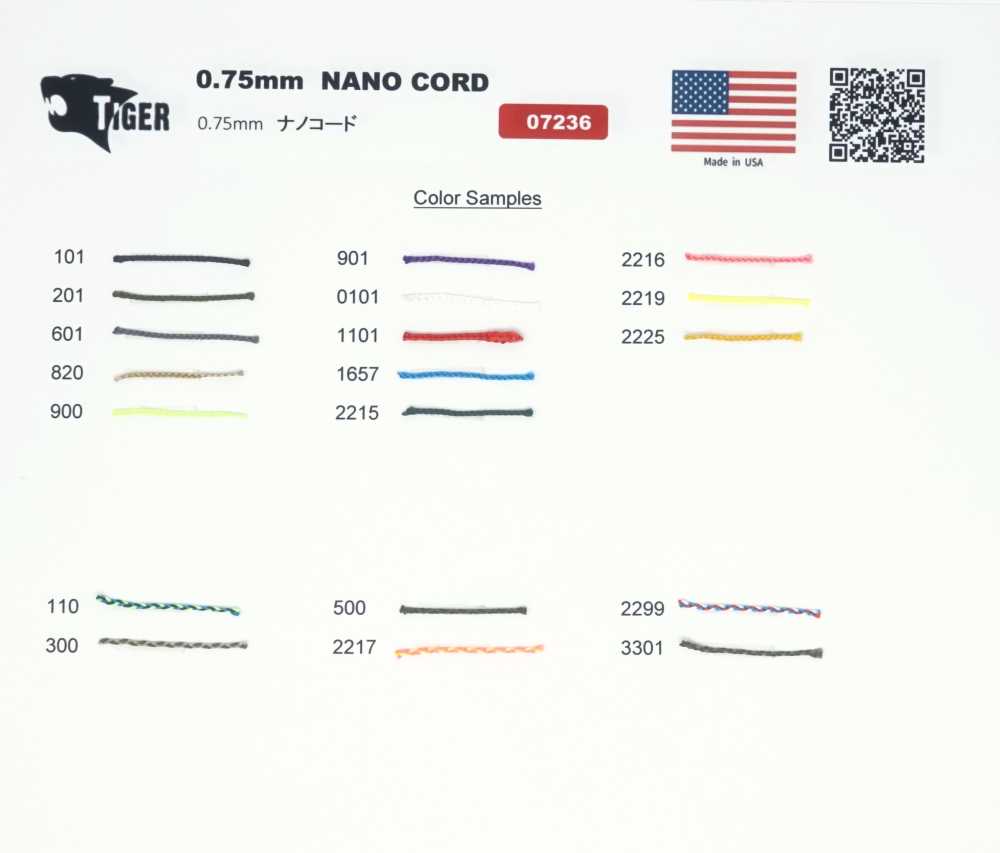 This is the thinnest cord among the TIGER products available on ApparelX.
It is a braided cord with excellent water resistance and durability, with a thickness of 0.75mm and a tensile strength of approximately 17kg.
It is perfect for creating accessories, keychains, and as a portable item for disaster preparedness.
Conclusion
This time, we introduced TIGER products available on ApparelX.
There are more products not covered in this blog, so please check them out on the ApparelX website!
If you are looking for apparel materials, visit ApparelX, the BtoB site for apparel materials!
For those looking for TIGER's paracord, visit the ApparelX TIGER page!
If you are considering placing a large order or would like to be contacted by the corporate team, please visit the Okura Shoji inquiry page